New Article on Erdheim-Chester Disease published
ECD Global Alliance members involved in research expanding the understanding of ECD
By Elizabeth S. Anderson, February 17, 2017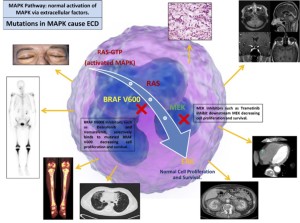 This month, a new article "The clinical spectrum of Erdheim-Chester Disease: an observational cohort study" was published in Blood Advances journal. The latest study written by Dr. Juvianee I. Estrada-Veras, et al is based on the ECD Natural History Study at the National Institutes of Health (NIH) where he is the principal investigator. The natural history study was the first of its kind for Erdheim-Chester Disease and it involved 60 ECD patients in the Genome.gov | National Human Genome Research Institute (NHGRI) clinical protocol. The article discusses findings that demonstrate the varied nature of ECD in terms of age of onset, clinical presentation, manifestations, organ involvement, disease severity, and survival. It also makes a case that ECD should be adopted by the field of hematology-oncology following the 2016 World Health Organization reclassification of ECD as a blood cancer (histiocytic neoplasm).
Learn more by reading the article at http://www.bloodadvances.org/content/1/6/357.
SPECIAL THANKS
Thank you to all the patients who participated in the ECD Natural History Study to make it possible for the information presented in this article to be learned and reported. Your involvement has helped to expand the understanding of ECD. The ECD Global Alliance and the entire ECD community are very appreciative of your effort.